Christian Education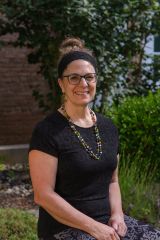 Jenny Gee
About Jennifer Gee
Jennifer Gee holds a B.S. in Biology from Kent State University and an M.S. in Education from the University of Akron. Jenny spent many years as a Sunday School teacher before having the opportunity to enter the field of Christian Education full time. She has served as our Director of Christian Education since 2009. Jenny was instrumental in the conception and development of our thriving bicycle ministry and has grown our summer Vacation Bible School program year after year.
She has a lengthy background as a naturalist, having spent many years with the Cleveland Metroparks as a naturalist and educator, promoting environmental awareness and directing educational programming for children and youth. In her free time, Jenny enjoys gardening, cooking, and spending time with her husband, George, and three awesome daughters. She is also deeply committed to supporting Fair Trade products and encouraging care for the natural world.
Jenny is excited about Christian Education at BUMC and believes that Sunday school and children's programming provides a vital pathway for children and youth to develop their own faith and nurture a vibrant relationship with God. She loves to identify the unique gifts and talents of each child and encourage them to discover where they will be able to grow and serve in this family of faith. Jenny truly believes that there is a place for every child and young person at Brecksville United Methodist Church, and she looks forward to welcoming you!