Director of Communication & Connection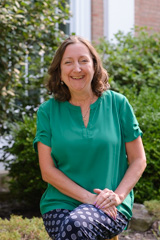 Melanie Smith
About Melanie Smith
If you see something in print or online from the church, Melanie may have had a hand in putting it together. Contact her to share your news, to subscribe to our newsletters, and to learn how you can plug into various programs. She's also always looking for ways to connect people – both in our church and in our community.
A member of our Missions & Community Engagement Committee, Melanie is committed to listening and believes that when we listen to God, our congregation, and our neighbors we will begin to see what God is calling us to next.
Life before Brecksville UMC included a career in luxury hospitality with the Ritz-Carlton and studies at Ohio University, where she met her husband, Jim. A lifelong Methodist, Melanie was confirmed at Highlandtown United Methodist Church in rural Columbiana County, Ohio — way back when.