Facilities Manager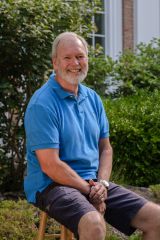 Jeff Hastings
About Jeff Hastings
Jeff Hastings is a graduate of Wartburg College with a double major in Business Administration and Economics. Jeff worked in the commercial property & casual insurance industry for almost 20 years specializing in safety and loss prevention.
During his high school and college years, Jeff worked with his father doing remodeling and new construction. Jeff built his first home and assisted in the design of his current home. He enjoys landscaping, doing most of the heavy labor while his wife Sue "supervises". He is very pleased to be working at the church with his son, Scott. He sees this as a wonderful opportunity to pass on knowledge from generation to generation.
Jeff is married and also has a daughter, Emily. He is a life-long Methodist and has been a member of BUMC for 22 years.